(Our southwest trip started May 1. All of my posts were written as the trip went along but were not posted live until we returned. If you want to read all the posts related to the trip, click on "southwest" in the label section below).
We spent a night in Deming, NM. Nothing to really write about. It was nice to get on the road again the next day.
Based upon people we talked to and things I read, we decided to stop at
City of Rocks State Park
. It turned out to be a pretty neat place with very interesting landscape formations.
We then drove up to Silver City, thinking about taking a detour to the
Gila Cliff Dwellings National Park
but another fire meant another change of plans ... the road to the park was closed.
On to Glenwood, NM where we stayed at the Whitewater Motel, a charming small comfortable place. The next day was the
Catwalk
and the ghost town
Mogollan
.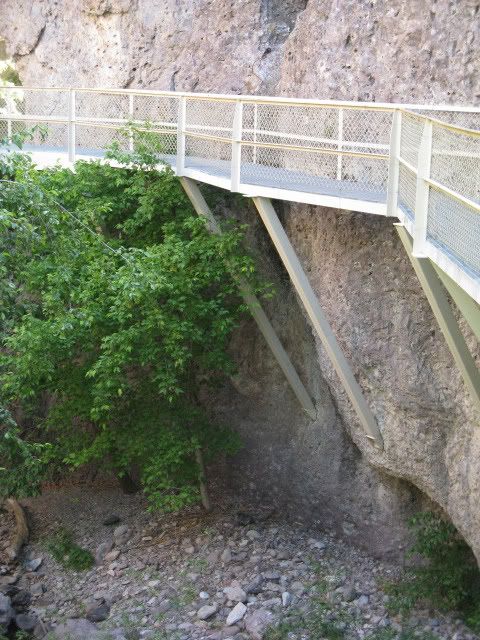 The Catwalk was really neat. The history behind it is a pipeline for water that was laid hugging the side of a canyon wall. Now there is a marked trail that goes along the canyon. The first 1/2 mile of the trail is handicap friendly. While parts of it did have its ups and downs, it was an easy walk.
The remainder of the trail was a tough dirt trail with significant ups and downs. After trying that for about 15 minutes, we had to turn back. Still, the canyon and waterfalls is beautiful and we are glad we stopped.
Our next stop was worth it only for the drive. The ghost town of Mogollan is not, literally, a ghost town. It currently has thirteen residents with gift shops and old buildings only open 'in season' Friday through Sunday. The drive to the town, though, was something else ... steep, very curvy and very scenic. However, with all of the steep curvy roads we had been on and would be going on, it was an unnecessary detour.
Continuing into Arizona on routes 78 and 191, we spent a night at Willcox, NM.