(Our southwest trip started May 1. All of my posts were written as the trip went along but were not posted live until we returned. If you want to read all the posts related to the trip, click on "southwest" in the label section below).
Plans were to go to
White Sands National Monument
in the late afternoon. There is an 8 mile drive with opportunities to stop and walk/climb on the sands. And then there is a ranger led Sunset Stroll.
We arrived at the park around 4:30, stopped at the visitor's center, then started on our drive. We took advantage of the pull offs and climbed some of the dunes and walked along the tops and, of course, took loads of pictures. The sand (gypsum) is very fine. In spite of the heat of the day, it was cool to the touch. And unlike beach sand which clings, this sand simply brushes off.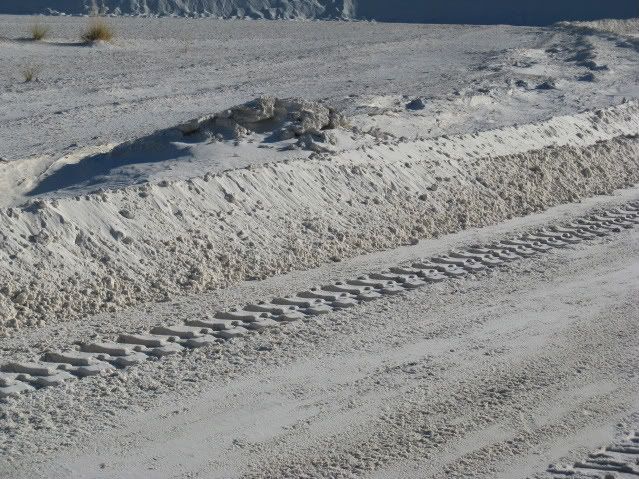 Part of the road is paved but most of it is hard gypsum. I looked at the edges of the road and said to my husband that they must plow this road ... the edges looked just like snow piled up along our roadsides in winter. Sure enough...in the windy season (ending about mid-May) they plow daily.
At 6:30 p.m. we were at the spot for the 6:45 ranger led Sunset Stroll. We walked up over a dune, into a inter-dunal area and learned a lot about the flora and fauna living in the dunes. The walk took about one hour and was about 3/4 of a mile in length. We finished on top of a dune to watch the sunset. It was really neat.