(Our southwest trip started May 1. All of my posts were written as the trip went along but were not posted live until we returned. If you want to read all the posts related to the trip, click on "southwest" in the label section below).
The
Natchez Trace Parkway
is loaded with history. It was originally an Indian trail, traveling through the Chickasaw and Choctaw Indian nations. It was used as a path home from Natchez where traders would sell their goods after sailing down the Mississippi. With no way to sail back up the river, they would also sell their boats for lumber and then hike home on the trail. Once the steam engine was invented, and the traders could travel back up the river by boat, the trail fell into disuse.
I have one word for driving on the Trace. Boring! Driving the Trace is driving through a dense tunnel of trees. There are no vistas, no interesting buildings along the way, very little wildlife. I originally thought it would be kind of neat driving this road, stopping for some of the short hikes into what I had hoped would be interesting areas. But the area through Tennessee was a total bore. After Tennessee the Trace clips a corner of Alabama and then we were into northeast Mississippi.
I had planned for us to spend a night at
Tishimongo State Park
and we kept to that. The park has six cabins that are complete with linens and kitchenware. Plus the park has a lake and a stream and I figured my husband might be able to fish.
That part of the plan turned out well. The cabin was heated and comfortable and we both had a great night's sleep. And while the river was too swollen to fish, my husband found a great place on the shore of the lake and fished both that evening and the next morning. And he can verify that there IS fish in the lake.
Next morning we went into the town of Tishimongo for breakfast, stopping at Inez where for $10.50 we both had coffee, eggs, meat, biscuit, hash browns, an apple pie for my husband and a corn muffin for me. We sat next to a very nice couple who gave us some sightseeing advice. Since the wife thought the same about the Trace as we did ("All you see are trees!") we decided to make some changes.
We continued on the Trace into Tupelo where we paid a visit to
Elvis' birthplace
. Then we were off the Trace, heading south on route 45, into Columbus, MS where we spent the night and walked around this neat little town. We even tripped over an art gallery showing and saw some very interesting work. We finished our evening with dinner at Huck's Place, both of us enjoying our meals.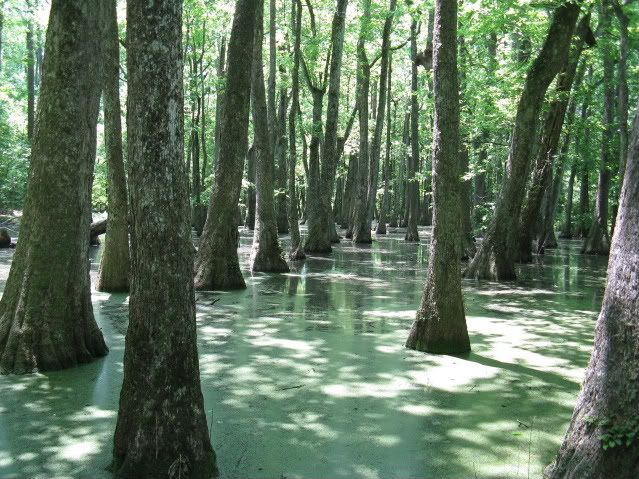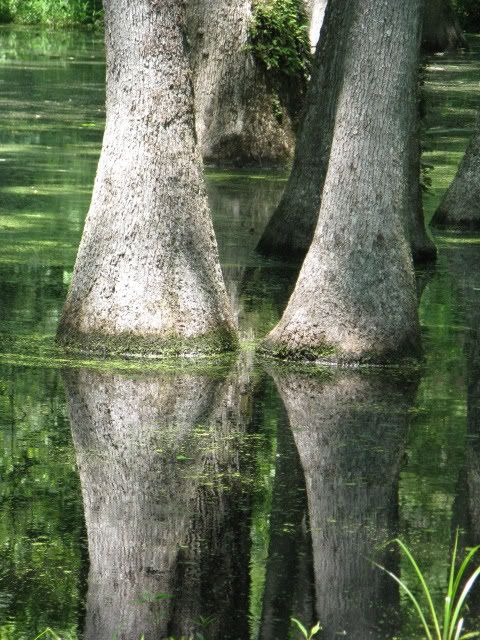 Next morning, heading due west, we rejoined the Trace where it is crossed by route 82, as there did seem to be some interesting possibilities between there and Jackson, our southernmost destination on the Trace. We stopped at Cypress Swamp for a nice stroll on the path that went around a swampy area. And as the Trace approached Jackson, it bordered a reservoir, which provided some nice scenery.
Perhaps if we had gotten off the Trace and stopped at more of the little towns along the way and studied the history a bit more it might have been more interesting. But as "drives" go … if your main interest is scenery and wildlife, as ours is, find another route.